Wedding WOW!
Welcome to Wedding WOW!
Browse for ideas, enjoy our fun tips, read about the latest trends in ceremony and reception décor and discover what the RC Special Events Team can offer.
Indoors or outdoors, traditional or modern, classical or quirky, our extensive range of rental items has been chosen to enhance your very special celebration.
With the support of one our event specialists planning the details of your rehearsal dinner, ceremony and wedding reception will become that much easier.
Bring us your vision and let us show you how to
Own the moment…. Rent the WOW!
"I Do"
Walking Down the Aisle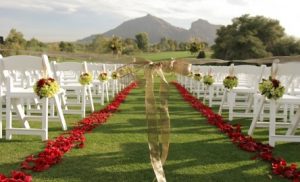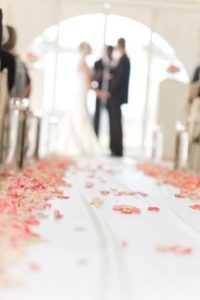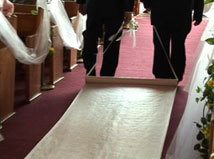 It's one of those wedding details that might get overlooked unless someone reminds you or perhaps your wedding planner asks which style you prefer. Aisle runners can set the tone of your ceremony, both indoor and outdoor. Aisle runners add a special touch and are an important part of the decorating scheme, but knowing which style to choose might not be as simple as it seems.
Here are some tips to make sure your trip down the aisle is both beautiful and safe
Do choose a color that will coordinate with your wedding colors, choose white if you plan to go traditional.
Be sure not to order an aisle runner that is too long or too wide for the aisle.
Disposable aisle runners are available in a range of sizes, colors and patterns.
Linen aisle runners can be rented and again are available in a variety of sizes and colors.
Consider renting a carpet runner in ivory or red to add a touch of glamour to your walk down the aisle.
Appoint someone to check that your aisle runner is positioned down the center of the aisle. This will ensure that the aisle runner doesn't look crooked in your wedding photographs.
Consider taping your aisle runner so that it won't move throughout the wedding ceremony.
If you're having an outdoor ceremony and using a disposable aisle runner, you can use small stakes to secure the aisle runner.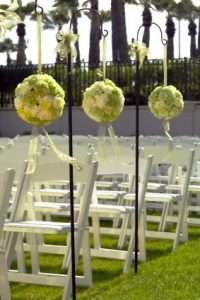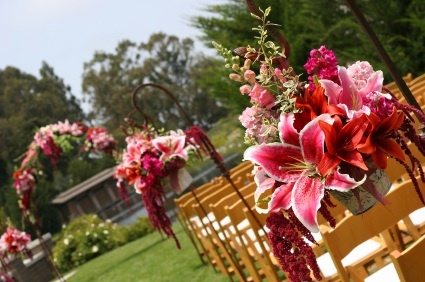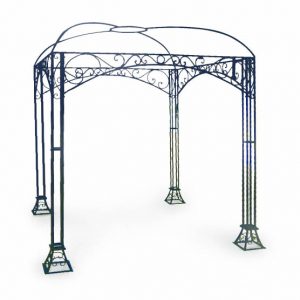 Chuppah – Huppah – Chuppa
However you spell it…everybody has a different idea, the addition of a four posted structure for the bride & groom to get married under is is probably the mostcommon tradition from Jewish weddings to have taken hold across the board at many marriage ceremonies. For a non-Jewish wedding it doesn't have to have a cloth top, it can be draped in beautiful fabric, bedecked in flowers and vines and can be made of shapely wrought iron, rustic wood logs, or simple white lattice.
Styling Your Setting
Create a unique table setting by choosing tableware in interesting shapes, sizes and colors, flatware in distinctive patterns and glassware in varying heights and designs.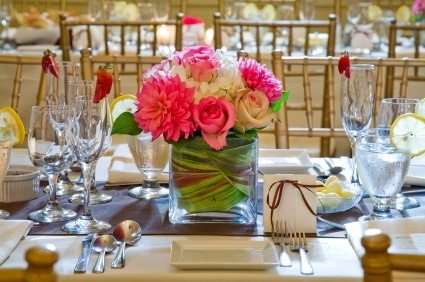 The theme of your wedding can be reflected in your choice of china, flatware and stemware.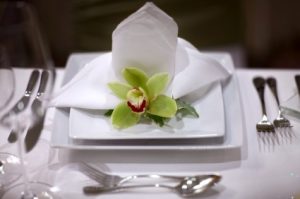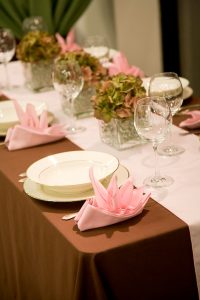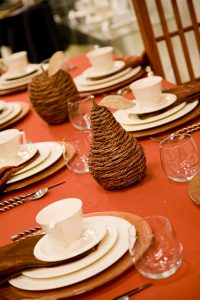 Choose the clean modern lines of square or triangular plates in white porcelain or patterned glass for a contemporary flair. To lend a classic air to your table setting opt for elegant silver or gold rimmed dinnerware.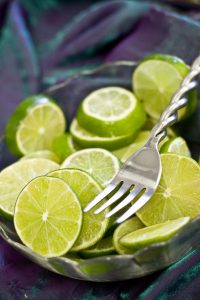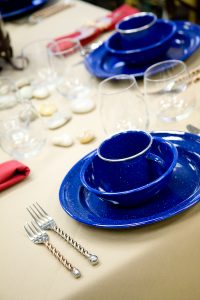 Even the couple planning a rustic outdoor reception can continue their theme to their table setting with the choice of bright blue enamelware, stainless steel "rope" handled flatware and tables illuminated by the glow of candle filled wrought iron lanterns.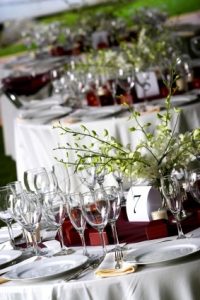 RC Special Events offers a choice of 11 different sets of dinnerware, colorful charger plates, 9 patterns of flatware in silver and stainless steel and a multitude of glassware styles to allow you the freedom to "style your setting" and reflect fully the motif of your wedding celebration.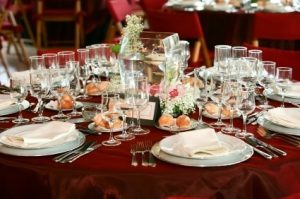 Worried What Fork to Use?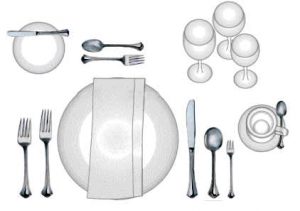 Proper Table Setting for Formal Dinner
At RC Special Events we are frequently asked questions about the "right" way to create a table place setting. The correct table setting is an essential part of any catered event. With the proper table setting techniques, you can be sure that your tables reflect approved table setting etiquette every time.
Note: If more than three or four courses are served, new silverware is brought to the table after all original silverware is used.
Popular Table Settings
When setting a table, align silverware one inch from table edge (no more than 2″ if using place mats.)
As for the order of the flatware, whichever piece is to be used first is placed furthest from center for correct table setting.
Just remember, forks on left side and spoons and knives with cutting edge facing plate on right.
Exceptions to setting the table this way are:

Cocktail/Oyster fork goes right of dinner spoon.
Butter knife lies across bread plate.
Dessert fork and spoon placed above with fork tines pointing right underneath spoon pointing left (shown in pic.) This is optional; they may be brought later with dessert.
Dessert and salad fork is short tined and dinner is long.
Water glass is above the knife. Wine glass (es) goes to the right of water.
Coffee cup and saucer are placed to the right of knife and spoon.
Pull Up a Seat
Compared to assigning seats and constructing your seating chart choosing what style of chair for your ceremony and reception may turn out to be one of the easiest decision you have to make!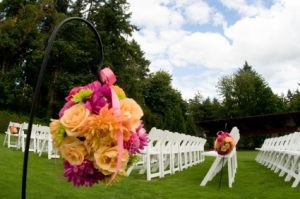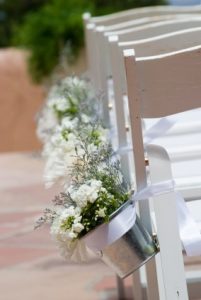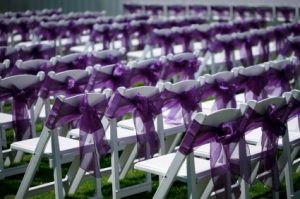 Wood and wood style folding chairs are simple, beautiful and functional and work well for both indoor and outdoor events.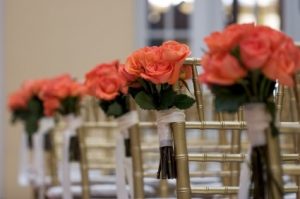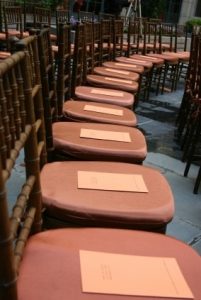 The chivari chair, a timeless classic can be found in bridal magazines, television wedding shows and can be spotted in the movies whenever a wedding is featured. Choose from silver, gold or fruitwood and for that truly custom look coordinate or contrast your chair pad color with that of your table linens or bridesmaids' dresses.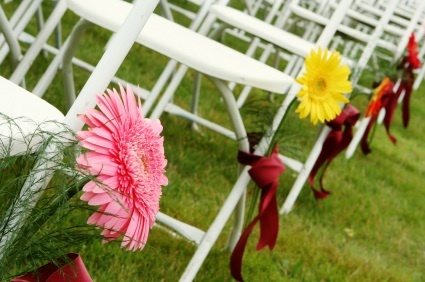 Light weight plastic folding chairs make perfect outdoor wedding seating at both the ceremony and reception and are available in a variety of colors and as with all our chairs they can easily be customized with flowers, ribbons, sashes and more.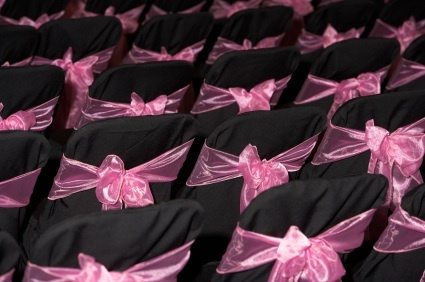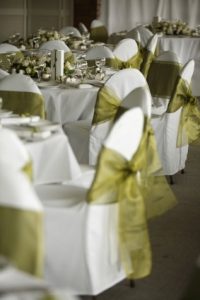 Problem – the chairs provided by your venue clash horribly with your décor colors.
Solution – chair covers available in white, ivory and black combined with a colorful chair sash produce an elegant effect in a multitude of venues.
Love Your Linens
With a focus on both color and texture, the linen choices for your wedding reception can create a unique and visually cohesive impression.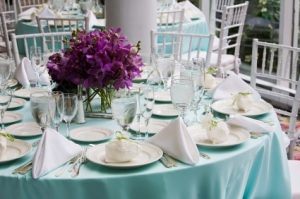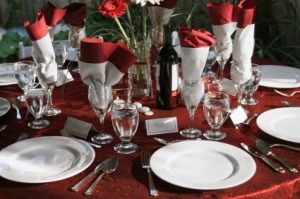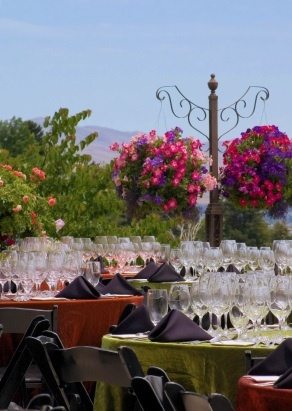 Traditional white or ivory table linens remain both timeless and elegant, but brides can now also choose from a wide variety of solid colors and may choose to supplement them with specialty overlays in organza, satins and silk,available in a dazzling variety of textures and shades.
The head table, cake, gift and guest book table can also be dressed in a unique linen, distinct from, but complementing those chosen for the guest tables.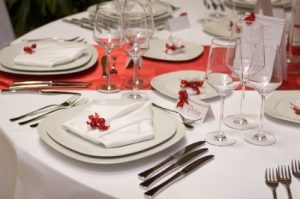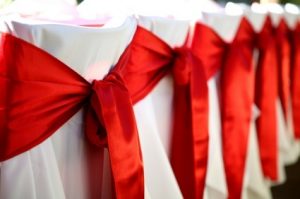 Table runners, also available in a wide variety of colors and fabrics, add impact on both round and rectangular tables.
The simple napkin can bring a pop of contrasting color to your table and chair covers and sashes add yet another outlet for color and texture choice.
Décor 'n' More
Beautiful wedding decorations add style, fun, and drama to your wedding day. First, ask yourselves what style and mood do you both want for your ceremony and reception? Are you casual, sophisticated or romantic? Do you tend toward simple and modern or opulent and over the top? Why not construct a wedding inspiration board also called a wedding story board to help you define the look you want to achieve.
An inspiration board is simply a mosaic of images that can help you pull together your ideas on color schemes, decorating ideas and other wedding details. It can also help illustrate the overall look and feel you want to achieve for your wedding. You can create your own wedding inspiration board using pictures from magazines, fabric swatches, websites and your own personal photographs.
Check out these RC Special Events boards for some inspiration. Click on each board for a larger view.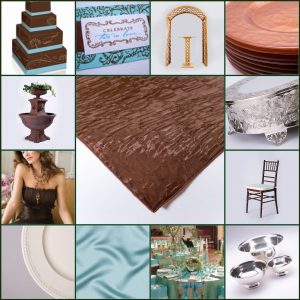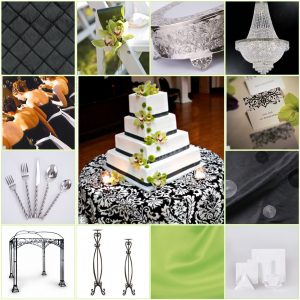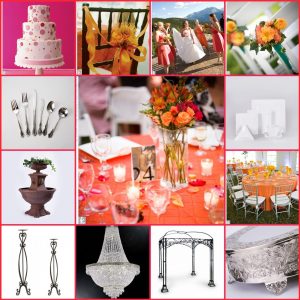 Vote for your favorite inspiration board!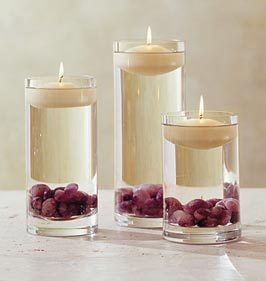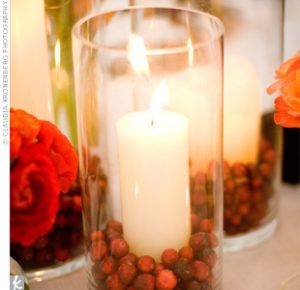 Centerpieces
A simple solution for show stopping centerpieces brings together beautiful floating candles in a selection of glass cylinders at differing heights. All that's left for you to do is to place them on your reception tables and let your guests enjoy the glow! Add some tumbled glass for interest and a burst of color.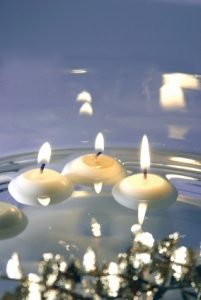 Bowls of flowers and floating candles make a lovely presentation for table centerpieces, and have the added benefit of being extremely easy to assemble.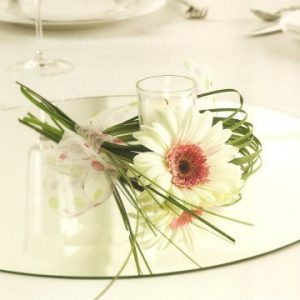 River rock pebbles scattered around an iron lantern with votives dotted amongst the rocks creates a rustic yet elegant centerpiece.
Mirrors available in different shapes and sizes will reflect candlelight and colors from flowers or tumbled glass gems placed upon them in the center of your table.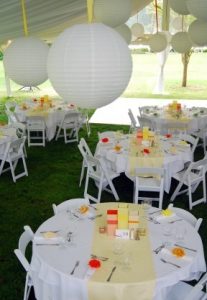 If you opt for a tented celebration the addition of fabric draping and swags and paper lanterns or parasols hanging from the tent ceiling will add drama. Coordinating the color of these décor touches with your table linens will lend the reception a truly custom feel.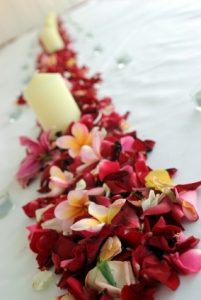 If your ceremony or reception venue will not permit open flames one solution, if you wish to include candles in your décor, is to rent LED "flicker"candles that give off a safe but very realistic glow.
Keep in mind that locations that are already very festive or decorative may require less, or even no wedding decorations at all!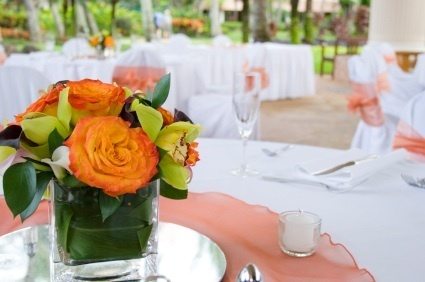 With a little imagination, you'll be amazed at how easy and affordable it is to create a unique day that you and your guests will remember for a lifetime.
Tented Delight
THE PERFECT WEDDING requires the perfect setting and nothing offers access to a wider range of ideal sites than a tent. Consider a tent to be an unadorned space that can be transformed into an elaborately decorated expanse or something more simple and understated.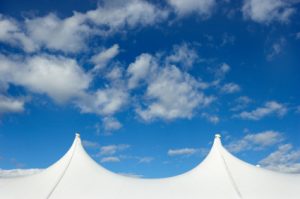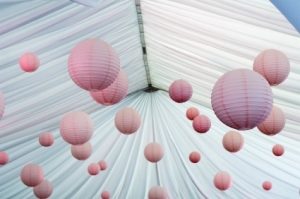 Most importantly tents allow guests to enjoy the surroundings – beautiful gardens, stunning views of the Colorado mountains or sentimental settings like a backyard from the bride or groom's childhood. Each and every detail from lighting and stylish décor to flooring, heating or cooling requirements along with many others are considered crucial in order to produce your event flawlessly. No matter what time of year a tented wedding is spectacular and climate control units help ensure that the weather will not affect your magnificent day all year round.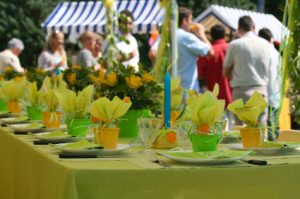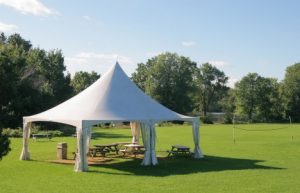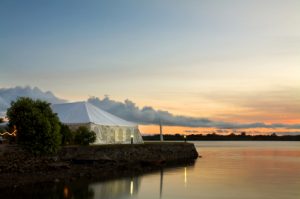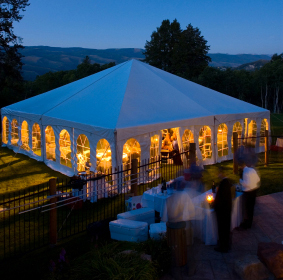 What makes the tent wedding so appealing? Many couples like the idea that their guests won't be confined to one room for the entire reception. Instead, they have the freedom to wander in and out of the party, while still enjoying the festivities.
A tented wedding requires planning, but it's well worth the effort. To create a magical scene under the big top; first pick the right tent style; create a fairy-tale look with a pole tent, drape the support poles with chiffon or silk, party under the night sky in a clear-top tent or create a wide-open party space under a frame tent, which has no center poles.
Flowers are ideal for dressing up a tent reception. Also plan to use different types of lighting in your tent, spotlights with colored gels and twinkle lights to create interesting shadows, project patterns onto walls, floors, and ceilings and light up corners and poles to create drama. And while reception halls already come with a set décor, tents are a blank canvas where a bride and groom can easily incorporate their theme and personal style providing a truly delightful experience under canvas for family and friends.
Don't know what size tent you need? Here's a handy chart!
We Never Thought of That!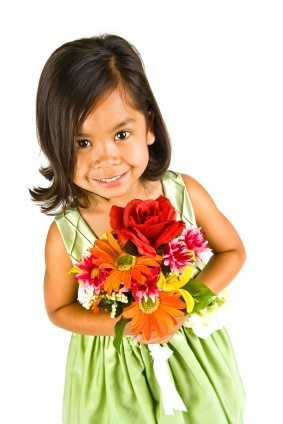 Children at Weddings?
This is the subject of endless debate. On one hand there are those who feel the whole family should be invited to share in the festivities. Still there are others that feel children are too immature and can't be counted on to behave. One solution some couples consider is a "kids VIP party" at their wedding.
Manned by a licensed babysitter and held in a separate room from the main reception, child friendly food can be provided and carnival games and DVD's rented. You can also stock the room with crayons and coloring books and age appropriate small art projects. If you are having a tented celebration a smaller tent can be set up adjacent to the main tent and decorated specifically for children.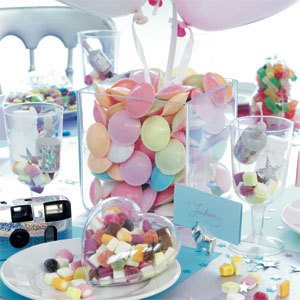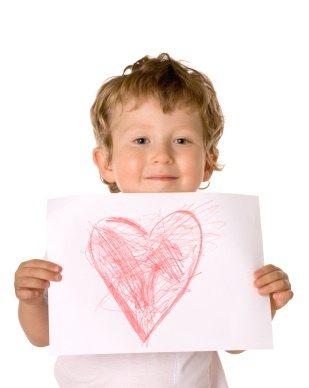 The underage crowd can be invited back into the main space for dancing after dinner and this will allow friends and family some time to relax and enjoy the wedding safe in the knowledge their children are close by enjoying their own fun, supervised party.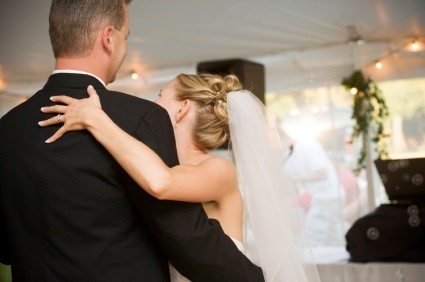 Couples Playlist
We all have our own favorite songs and most couples have songs that have extra special meaning to them, now by simply attaching your iPod or mp3 players to a portable Anchor sound system you can share your playlist with your wedding guests. With the wireless microphone attachment you can also use the sound system for the ceremony, the speeches and for making announcements at the reception. Before your wedding have fun planning your playlist of songs, include all your favorites and by adding a selection to appeal to every generation you can guarantee everyone at your reception will be up on the dance floor all night.
Shoe Valets
How many times have you had that perfect pair of shoes that you wore to a wedding and low and behold half way through cocktails you are looking for a chair or wishing you had chosen different shoes. We all have. Here is your chance to save a friend from a painful night. Set up two or three large wicker baskets filled with inexpensive flop flops, in your wedding colors of course, for your guests to change into while they dance the night away in your honor.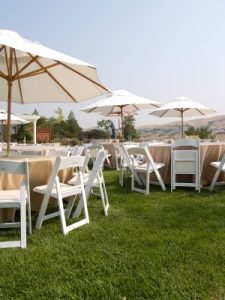 Keeping it Cool
Translating your vision of the perfect day into a beautiful reality is uppermost in most couples' mind when planning their wedding but if your guests are too hot, too cold or blinded by the sun they won't even notice your perfectly coordinated linens or carefully chosen favors.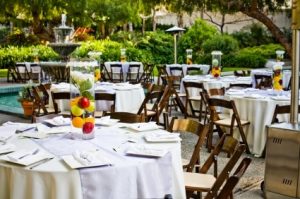 Keeping your guests comfortable should be a top priority in everyone's wedding preparations. Patio heaters can be rented to take the chill off the evening air and café style table umbrellas will keep guests shaded and cool in the summer sunshine. The climate in party tents can be controlled with heating or AC, leaving guests free to relax and fully enjoy the wonderful celebration you have invited them to share with you.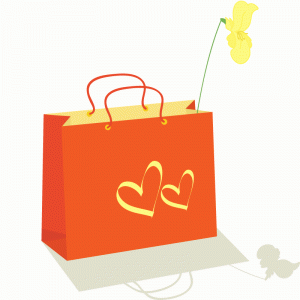 Gifts Guaranteed to be Used
Everyone likes a great welcome basket, but your wedding guests will LOVE – a post wedding care package. Deliver while the reception is in full swing, these goodie bags can be packed with bottled water, local snack, pain relievers, mints, Band Aids, and a door hanger that says something like "Do Not Disturb: Recovering from Jessica and Brian's Wedding."
Relaxing Rehearsal Dinner
Keep your rehearsal dinner light and casual: a barbeque, clambake, pasta supper, anything non-formal that will let you chill out with your guests. If possible, have your dinner two nights ahead instead of the night before, you´ll have a more relaxing wedding eve, you´ll hopefully get more sleep, and you´ll have the chance to catch your breath before the big day.
How Green is My Wedding?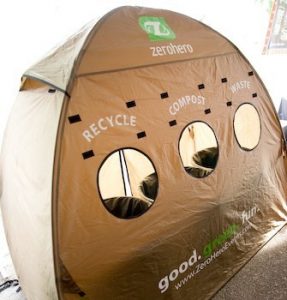 Organic and earth friendly, more and more couples planning their wedding are considering the environmental impact of their big day. Opting for tree free or recycled paper for invitations, sourcing locally, providing composting stations at the reception or creating a donation registry to a worthy cause are just a few of the myriad of choices a couple can make toshow they care about the planet.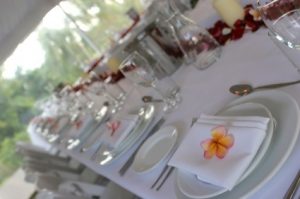 Choosing rental items for your ceremony and reception can be a major step to minimizing waste at your wedding. Utilizing china, glassware, flatware and linens over disposables is a classic example of a product service system, providing the perfect means for getting the most use out of minimal resources and you won't be left with the headache of storing 20 centerpiece vases and a wedding arch in the attic for years to come!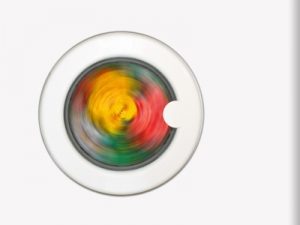 RC Special Events in both laundry and dishwashing facilities utilizes environmentally friendly cleaning products. We encourage our clients to return linen hangers to be reused; about 3.5 billion wire hangers get dumped into US landfills every year according to the Hanger Network that is 195 million pounds of steel or the equivalent of 60,000 cars! We also provide reusable linen transport bags for the return of our linens and whenever possible recycle any damaged table linens into napkins.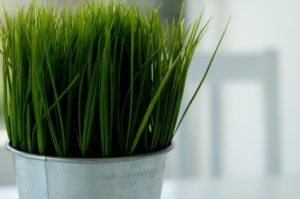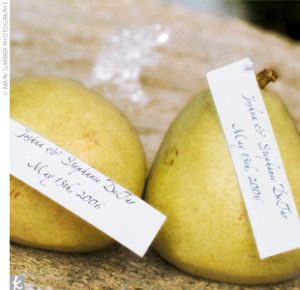 By taking a look at the bigger picture, you can create a truly personal, moving, and sustainable celebration that people will remember for years. You may even open a few eyes in the process…
How We Can Help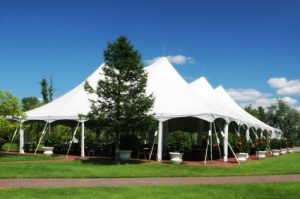 Site Evaluation
Having a tented event, but don't know what size of tent you need? Does your site have trees or other structures, power lines, sprinklers or utilities we may need to take into consideration?
Schedule a site evaluation with a member of our Tent Professionals Team, free of charge!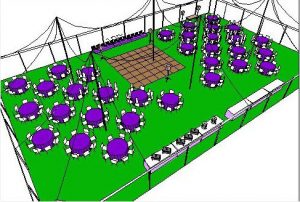 CAD (Computer Aided Design) Drawing
Let the Event Professionals at RC Special Events help you visualize your special day…on paper and in 3D! Request a detailed layout of your wedding. Your initial CAD Drawing and one revision are free of charge!
Naked Table Room
There are many details in planning a wedding reception, right down to the last tablespoon! RC Special Events' showrooms are equipped with your very own "Naked Table Room" where you are free to play around and create your dream table setting. Pop in and take some time experimenting with different linens, china, flatware and centerpieces. Call ahead and give us some details of your wedding plans and we can have suggestions ready for your play time.
Reserve a date and time for exclusive use of our Naked Table Room in either location.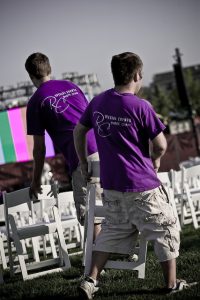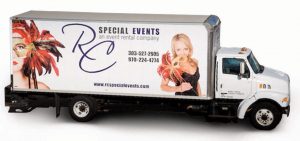 Added Services
In addition to the multitude of Wow! Inventory that RC Special Events provides for your special day, see below for additional services we have to offer:
Delivery and Pickup
Full event setup and breakdown
Tabletop design and setup
Chair cover install
Day of wedding coordination
Event cleanup
Please contact us for information on any of these services.